DataLINKSM Taxonomy
Dataline has leveraged its 240 Million name consumer database and is delivering quality digital audiences with over 500+ online segments. These multi-dimensional data sets are primarily sourced from actual purchasing transactions, lifestyle, behavioral, and demographic data.
The Dataline difference – BIG DATA that is transactional!
Automotive
Fashion
Flower Buyers
Food
Health & Beauty
Health & Fitness
Home Decor
Home & Garden
Pets
Sports
Travel
Technology
We have taken Dataline Digital to the next level of sophistication by now offering customized model segments based on client specific data. The marriage of these two processes makes the DataLink digital application unique.
DataLink identifies true buyers – not browsers!
Audience Predictor (SM)
Dataline's custom modeling solution is a proprietary tool that marketers can use to customize their audiences. We deliver targeted actionable data sets that fit each marketers unique customer acquisition program.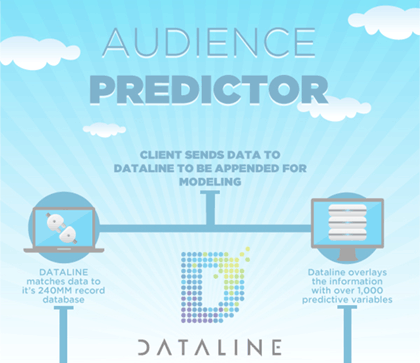 View Infographic